Missing teeth? Ask our skilled dentists about implants! Dental implants replace your missing teeth, restoring full oral health and function as well as giving you back a beautiful smile. We offer both implant placement and implant restorations, and they will work one-on-one with you to create a treatment plan that will produce excellent results. Whether you are replacing a single tooth or receiving an implant-supported bridge or denture, we can help you! Give us a call to schedule a consultation at Avanta Dental and learn more about implant dentistry in Yakima and Ellensburg, Washington.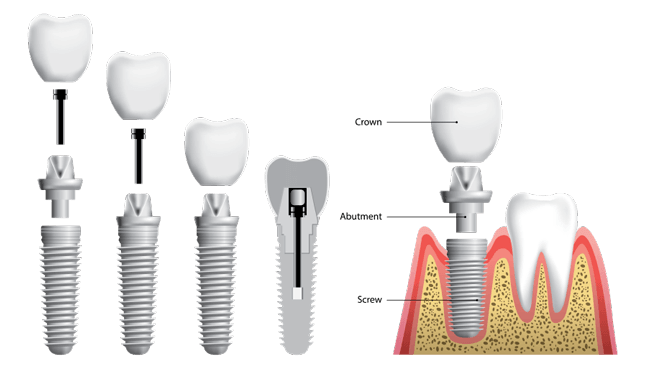 ---
Why Dental Implants?
When it comes to reliable tooth replacement options, dental implants are difficult to beat! These long-lasting, stable restorations replace both the visible and invisible parts of your missing tooth: the tooth crown and the tooth root, and they are versatile enough to restore a single missing tooth, multiple missing teeth or an entire missing dental arch.
When gaps are left in your smile, it will affect your dental health as well as your appearance, allowing teeth to shift out of alignment and putting you at risk of bone resorption or deterioration. Implants not only fill the spaces in your smile left by missing teeth, but the biocompatible posts that are placed in your jawbone also stimulate the supporting bone structure for long-term dental wellness. A dental implant consists of two parts: the implant post and the implant restoration.
---
The first part of your implant procedure is your implant placement, during which our dentists will surgically place the implant post into your jawbone at the site of your missing tooth. The implant post, a small screw made of titanium or another biocompatible material, will bond with your bone in a process called osseointegration and provide a stable foundation for your restoration.
After a period of healing, our dentists will help you decide which dental restoration option best suits your needs. If you are replacing a single tooth, we will likely recommend a simple dental crown. If you are replacing multiple teeth, we have a number of options to discuss.
---
An implant-supported bridge has all the benefits of a dental bridge with the added stability of implants. Anchored into place, this restoration option can replace multiple teeth in a row to give you back a beautiful, functional smile.
---
Typically recommended as an alternative to traditional dentures, implant supported dentures replace an entire arch of teeth for an exceptionally stable, natural-looking and fully functional restoration that can last you for years to come.
---
Prepare for Your Implants
Some patients may need to ensure their mouth is fully ready for implant placement before moving forward with their implant procedure. This may mean going through periodontal maintenance visits to eliminate any gum disease before treatment or having a bone grafting or sinus lift procedure.
If your jawbone is not dense enough to support a dental implant, our dentists may recommend a bone grafting treatment. This may be needed if your tooth or teeth have been missing for a long period of time before your restoration.
Like bone grafting, a sinus lift helps ensure your upper jaw has sufficient bone structure to support a dental implant. This procedure is only recommended if you are receiving implants in your upper jaw.
---
Frequently Asked Questions
---

How Long Do Dental Implants Last?
Care for your implants the same way you would care for your natural teeth. That means daily brushing and flossing and regular preventive visits to the dentist.
---
---

How Do I Care for My Implants?
Care for your implants the same way you would care for your natural teeth. That means daily brushing and flossing and regular preventive visits to the dentist.
---
---

How Successful Are Implants?
The general success rates for implants are 90% to 95%, though this success relies on your oral health and home care habits.
---
---

How Much Do Implants Cost?
The cost of your implant procedure will depend on the condition of your mouth, how many treatments will be needed to prepare you for your implant placement, and which type of restoration you and your doctor decide is best for your smile. Our team can offer you an initial estimate of your treatment cost following your consultation with our dentists. Most dental insurances will cover at least some of the cost of your implant.